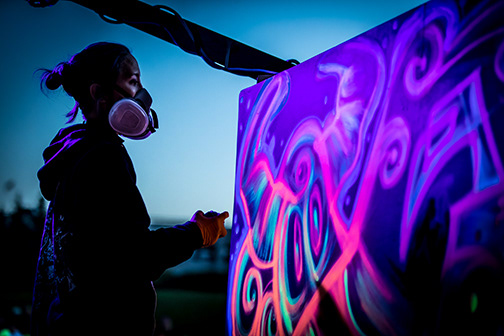 Come have
Pink Panda
 live paint at your next indoor or outdoor event! Mediums she enjoy working with include: acrylics, chalk, spray paint and/or UV reactive paint. Only the highest quality products are used. She enjoys engaging with the audience while creating a unique piece of art right before your eyes.
Live Painting – skate decks, canvases, pavement, an 8' x 12' pop-up wall, or pretty much anything else you want.  
Please contact her for further details and a free quote!
The Winnipeg Renovation Show,

RBC Convention Centre, 375 York Ave
, 
Winn

ipeg, MB. Canada. – January 10, 2020. 
Live painting with acrylics at Macanta Design Build Inc. (Booth #317)
Full Blüm: Habitat Heart Space
,

 The Park Theatre

, 
Winn

ipeg, MB. Canada. – February 8, 2020. (8pm -11pm) 
Live painting with acrylics. Also displaying/selling originals, prints and stickers. 
ArtFest,
Crescent Fort Rouge United Church

​
, 
Winn

ipeg, MB. Canada. – April 19, 2020.

(Postponed. New Date: TBA)
Live painting with aerosol paint. 
Art Jam: Osborne Street Festival,
Osborne Village

​
, 
Winn

ipeg, MB. Canada. – July 1, 2020. 
Live painting with four other street artists. 
(Cancelled.)
Winnipeg Comiccon,
 RBC Convention Centre
, 
Winn

ipeg, MB. Canada. – October 30 - November 1, 2020. 
Live painting and selling pop culture art, skate decks, prints, merchandise, clothing and more!
*Events are updated throughout the year once I've received confirmation. 
"We hired Pink Panda to perform live painting at a large tradeshow we were exhibiting in. She was very professional and responsive with a detailed proposal when we expressed interest in her services. She included samples of her artwork and clearly described what she would be doing for us. Pink Panda's artwork is very creative, funky, colorful, and edgy. As is she! We were looking to add positive and a "fresh energy" to our company's exhibit- and her services definitely fit the bill! We auctioned off her finished artwork piece as part of our overall marketing strategy. There were a TON of entries. As she was live painting, many people stopped by which ultimately gave use some more brand recognition. 
I would highly recommend Pink Panda's unique services and artwork to anyone looking for a unique and cost effective way to promote their business.
Macanta Design Build Inc., Winnipeg, MB  Canada
"Pink Panda impressed us with her live painting that not only fit her brand but ours too. Nuit Blanche was our busiest day ever and Pink Panda's art lit up the night acting as a beacon that was impossible to miss. Everyone walking by stopped to admire the process."
Sales & Marketing Manager
PEG Beer Co., Winnipeg, MB  Canada
"Pink Panda  has been a part of the Annual Grand Beach Sandcastle Competition the last two years with her fantastic chalk art on the boardwalk. It has enhanced the event and brought an appreciation for this art form to a group of individuals that have shown enthusiasm and admiration for this art. Pink Panda will always be a part of this event and we hope you have the opportunity to make it to Grand Beach to see her great work."
Event Organizer for Annual Grand Beach Sandcastle Competition
Pink Panda Creative,
"Thank you so much for your assistance with The Electric Donkey Run events over the past few years. You did an excellent job creating original LIVE black light art that was a big part of the event success and the participants experience. I am always impressed with your organization, execution and amazing creativity."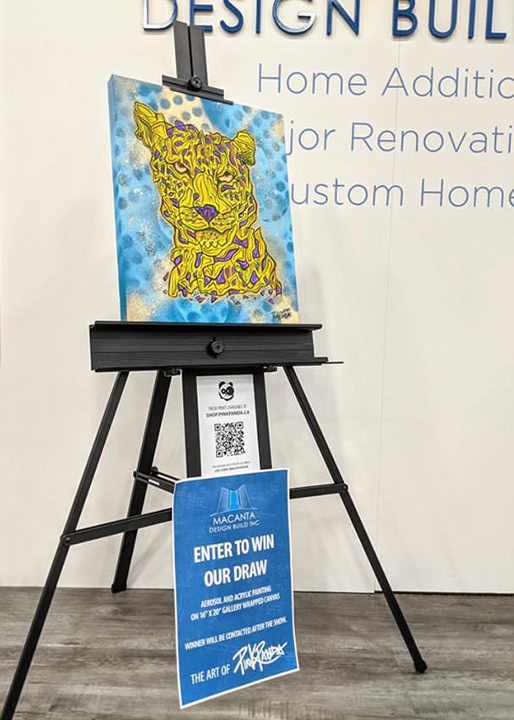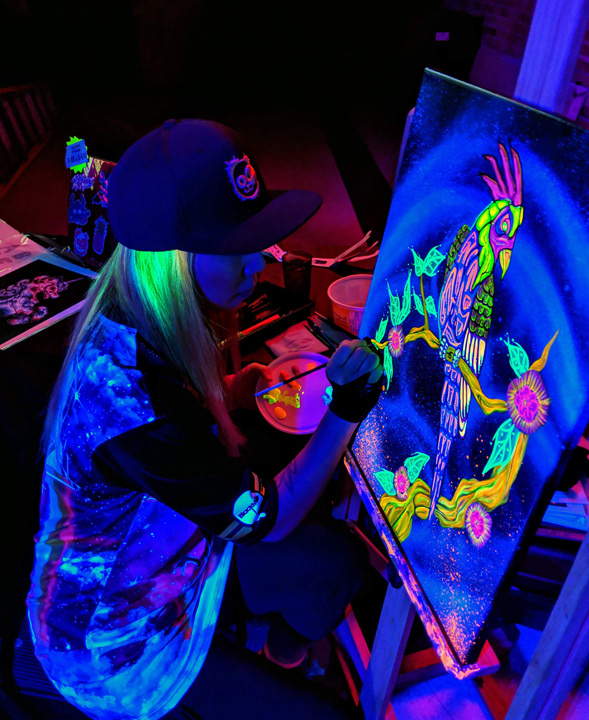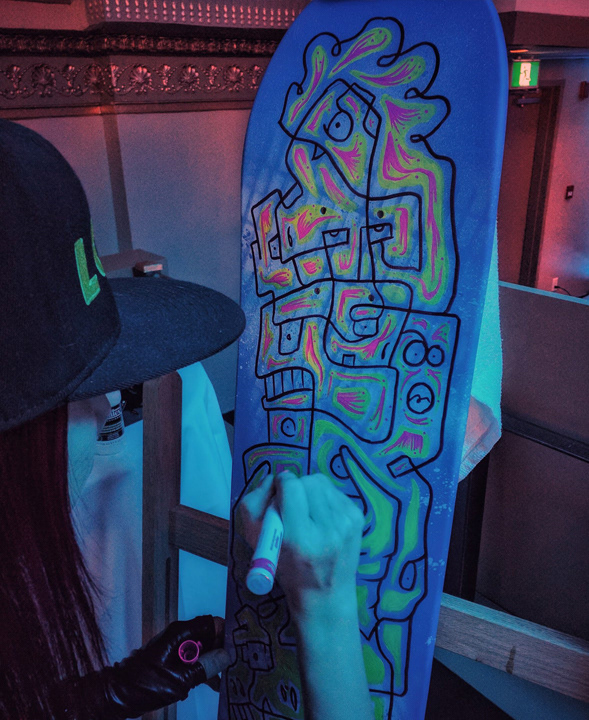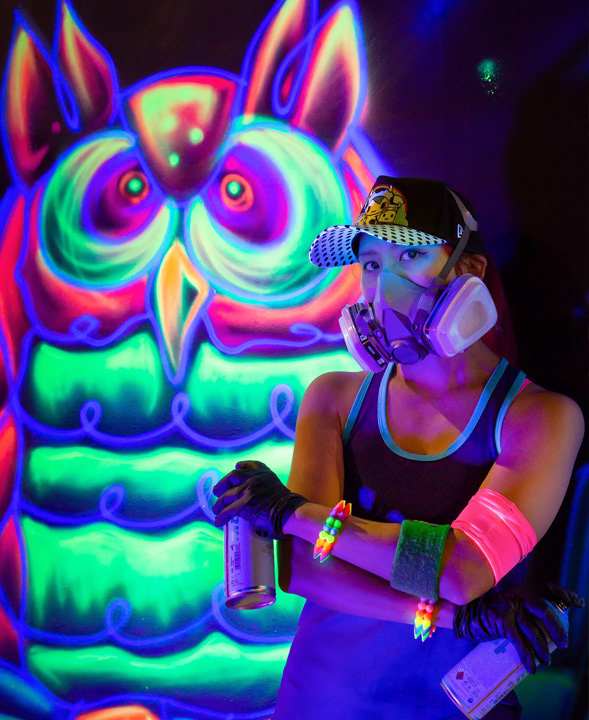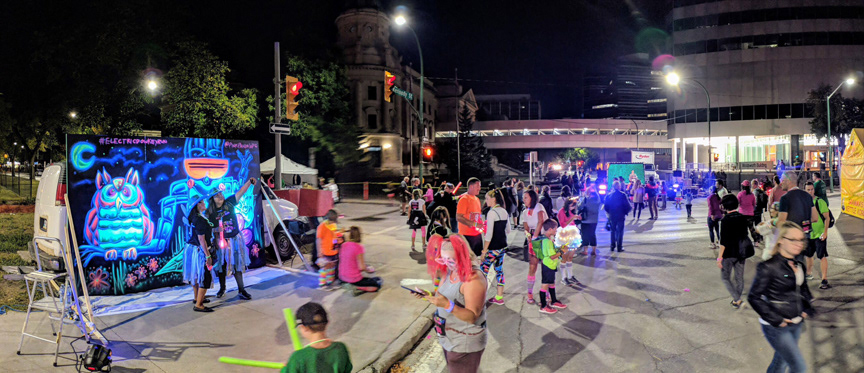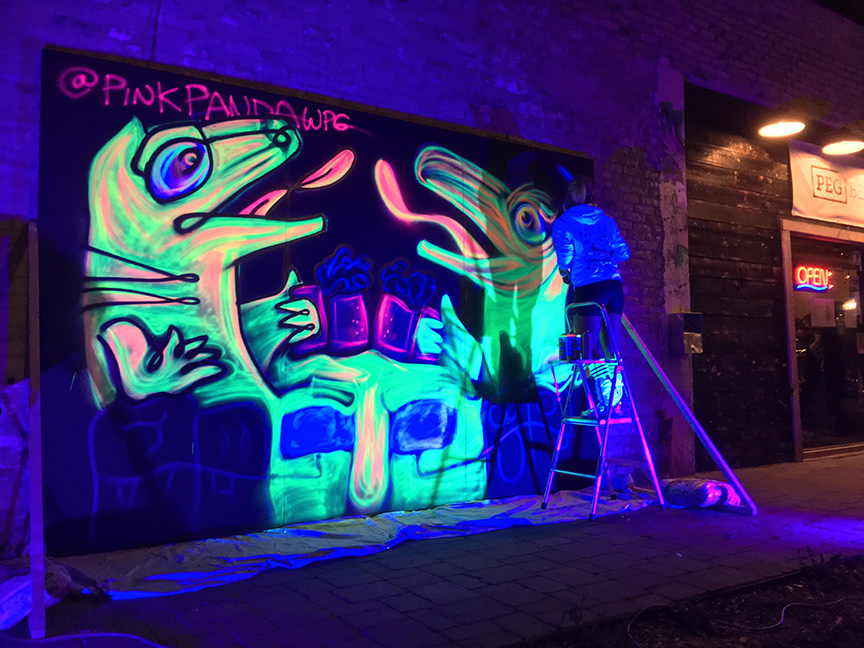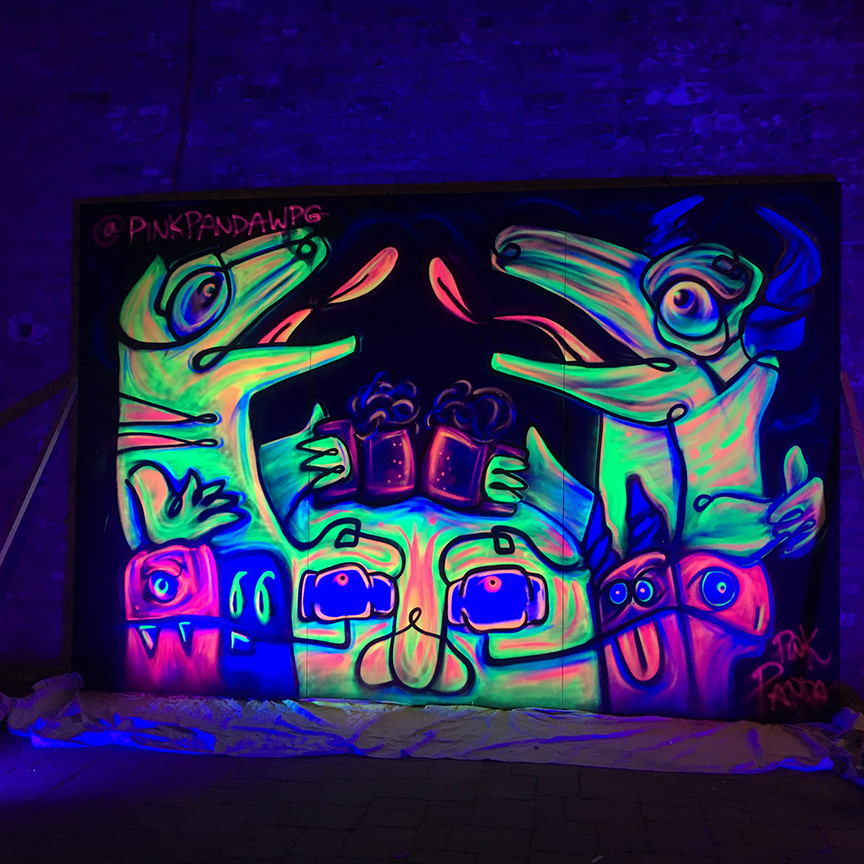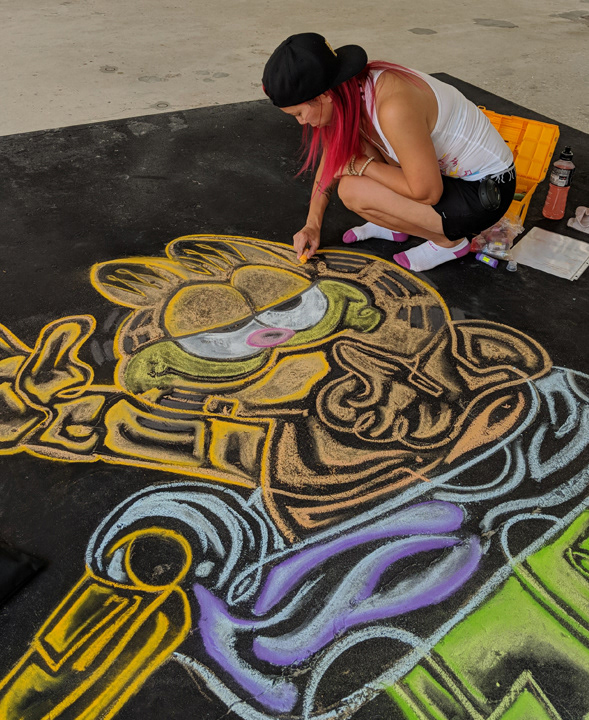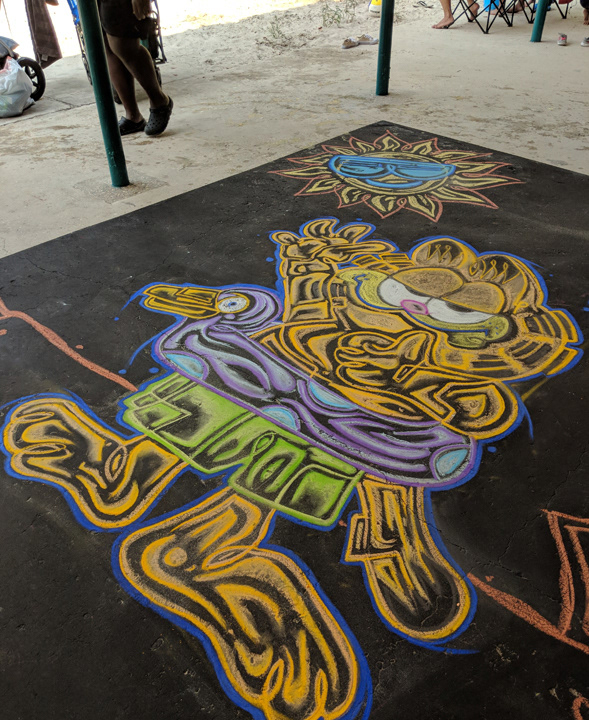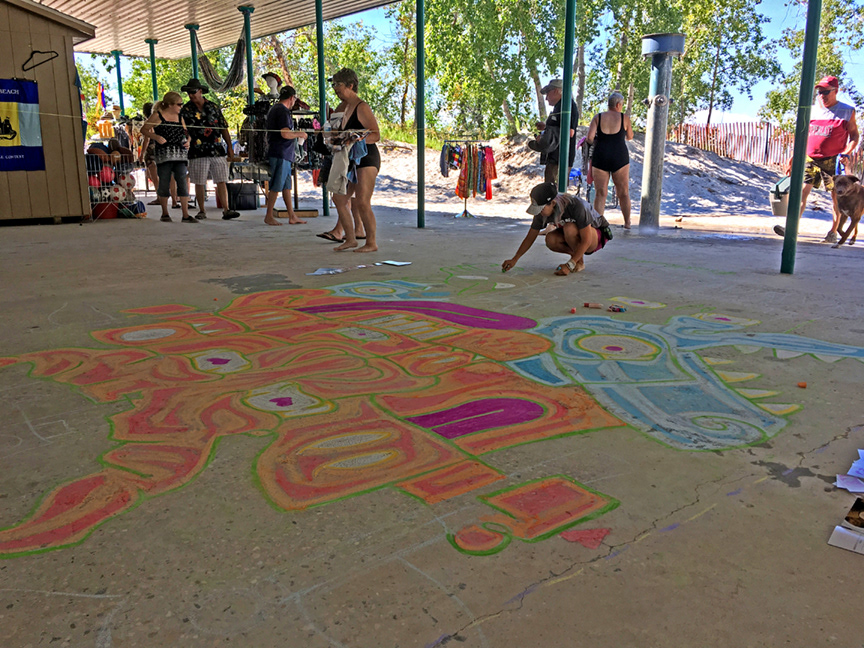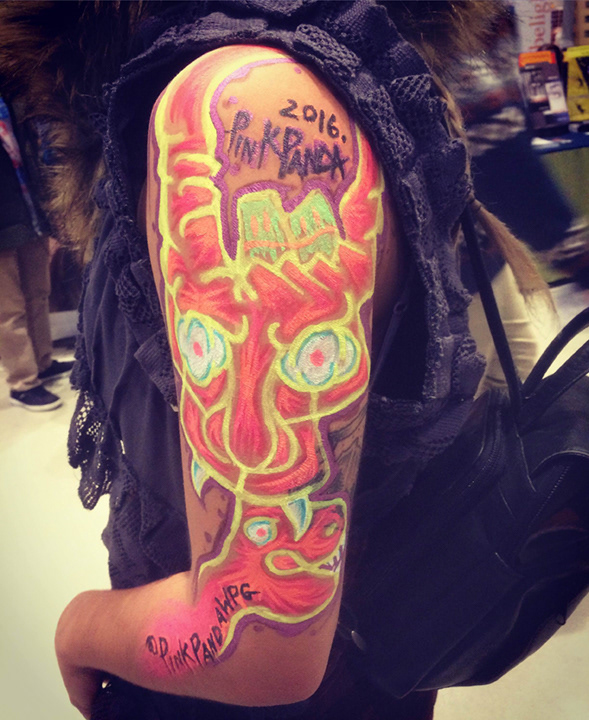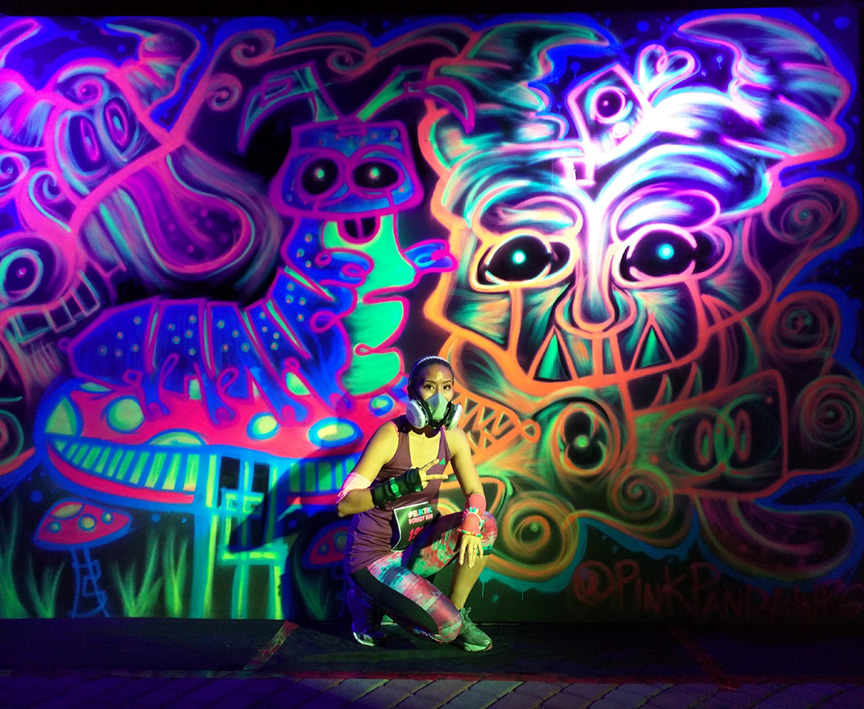 Top Photo credit: Kelly Morton Photography